Grand Rapids, Michigan, is approximately 25 miles east of Lake Michigan. As the second most populous city and economic and cultural hub of West Michigan,
Grand Rapids
certainly has a lot to offer. But that's not all that this fast-growing city is known for. Grand Rapids includes many restaurants to meet every food lover's desires.
Whether you're craving traditional cuisine or foods with a modern twist, Grand Rapids certainly won't disappoint. Here are 11 restaurants in Grand Rapids that you can't miss the next time you're in town.
The Sovengard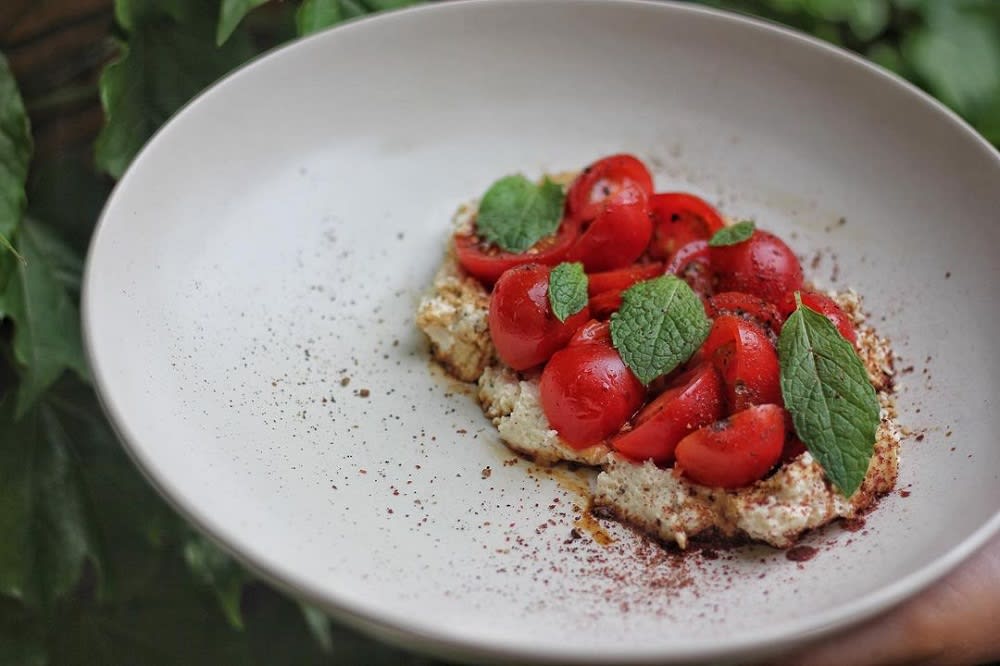 Photo Courtesy of The Sovengard
The Sovengard
is at the top of your list if you want to indulge in a local eatery. Located at 443 Bridge Street, you'll enjoy seasonal, locally-sourced foods with a continuously-changing menu to keep the locals interested. At The Sovengard, you'll find a diverse brunch and dinner menu with delicious items such as winter porridge, pork belly & jam, potato & radish, and crispy fish.
Sovengard's commitment to a more sustainable food system is unique. This popular restaurant incorporates the diversity of West Michigan through its food choices, and they work with local farmers who share this same commitment. Once you've experienced the flavors of Michigan, you can enjoy one of their delicious cocktails available for dine-in and takeout from 4-9 p.m. every day.
Harmony Brewing Company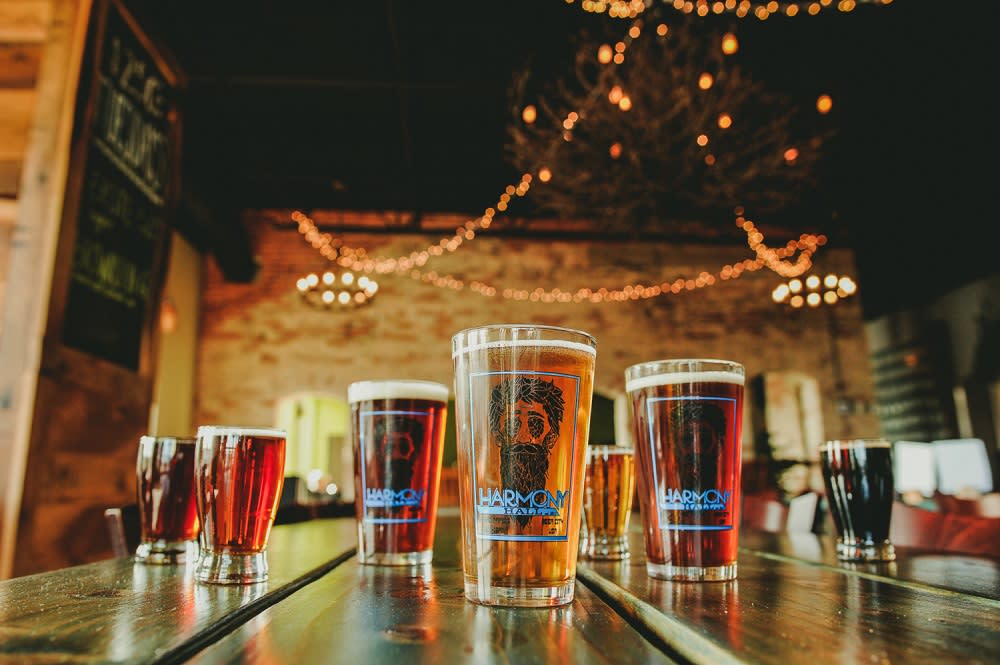 Photo Courtesy of Harmony Brewing Company
If you share a love for food and drinks, then drive to
Harmony Brewing Company
, located at 1551 Lake Dr. Starting as a dream project, this brewery has become a staple in Grand Rapids. You'll enjoy an array of delicious craft beers, whether you're looking for a quick refresher after enjoying a day in Grand Rapids or whether you're looking to relax during your night out.
If you're interested in a little more than just drinks, check out Harmony's diverse and locally-sourced food menu. Indulge in something lighter, such as the Harmony Salad, or enjoy a 12-inch nontraditional wood-fired pizza like the Crispy Pig pizza and Mi Cubano. Consider their cheesecake for the week, an ice cream sundae, or a root beer float if you have room for dessert.
six.one.six
Are you interested in savory American cuisine? Then head on over to six.one.six restaurant in Grand Rapids. Located at 235 Louis Campau,
six.one.six
is The JW Marriott signature restaurant which deems itself "The Culinary Encyclopedia of American Cuisine," offering an elevated dining experience.
But six.one.six doesn't just claim to have some of the finest American cuisines; they are committed to using locally-sourced ingredients, some of which are picked from the JW Marriott's garden. Guests will also appreciate the fact that six.one.six participates in a program called Sort, which is a recycling and composting program which helps turn food scraps into top-quality soil.
Terra GR Restaurant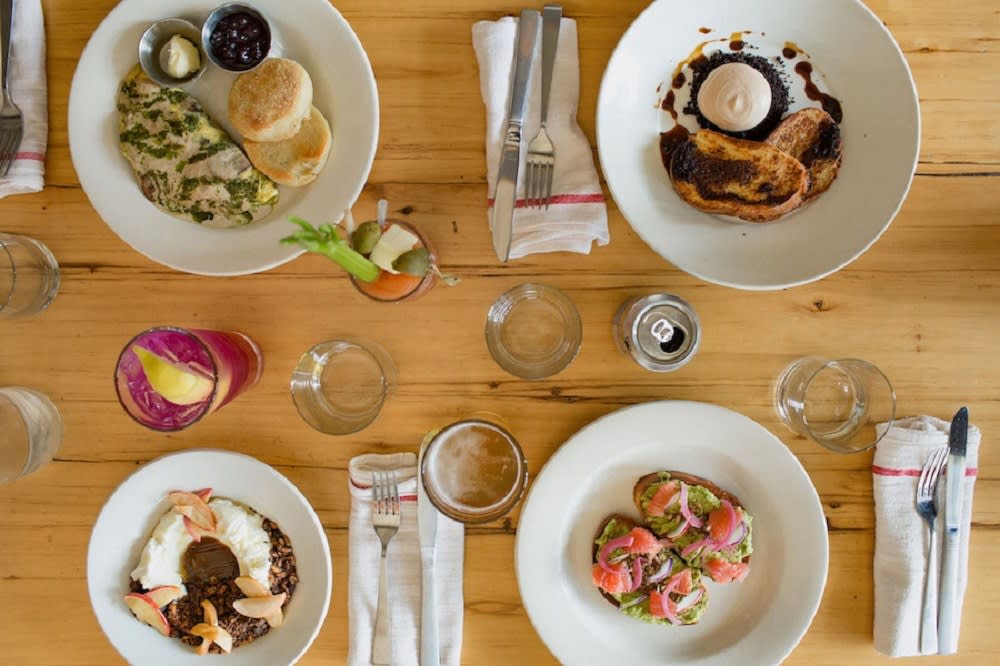 Photo Courtesy of Terra GR Restaurant
Yet another restaurant in Grand Rapids focused on bringing authenticity to the table is
Terra GR Restaurant
. This hot spot is located at 1429 Lake Drive, and with the help of thoughtful sourcing of seasons and sustainable ingredients from local farms and purveyors, guests will enjoy an array of delicious foods of all kinds.
Some of their most popular meals include wood-fired pizza, like the smoked bacon, and Margherita. If you're looking to scale back with a lighter meal, you can try one of their fabulous salads, including kale Caesar and marinated chickpea salad.
Those who dine with Terra GR will also enjoy their commitment to genuine hospitality. With this in mind, guests can expect handcrafted experiences from the farm and directly to their table.
Forty Acres Soul Kitchen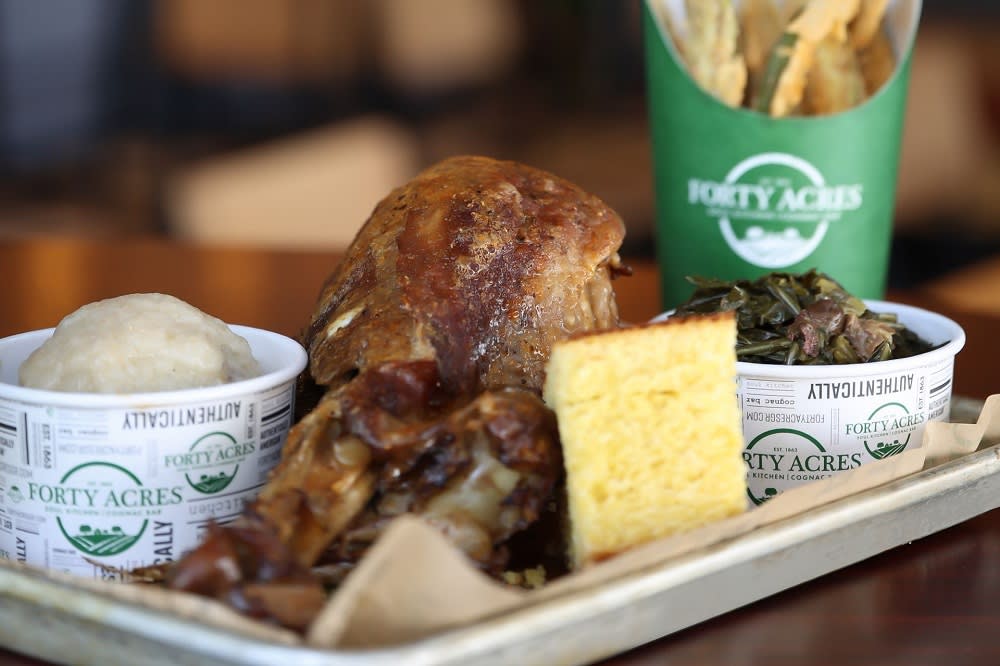 Photo Courtesy of Forty Acres Soul Kitchen
If you love American Soul food,
Forty Acres Soul Kitchen
is a can't-miss destination. This Grand Rapids restaurant and cognac bar pride itself on being resilient and unapologetic in style. Forty Acres Soul Kitchen includes an urban space and invites everyone from all cultural backgrounds to come and enjoy Black culture, community, and deliciously authentic soul food.
Located at 1059 Wealthy Street, this popular Grand Rapids restaurant features scratch-made dishes made from high-quality ingredients. Guests can enjoy staple soul food dishes, such as fried or blackened fish, fried or blackened chicken, grits, mac n' cheese, and select vegan meals.
Rose's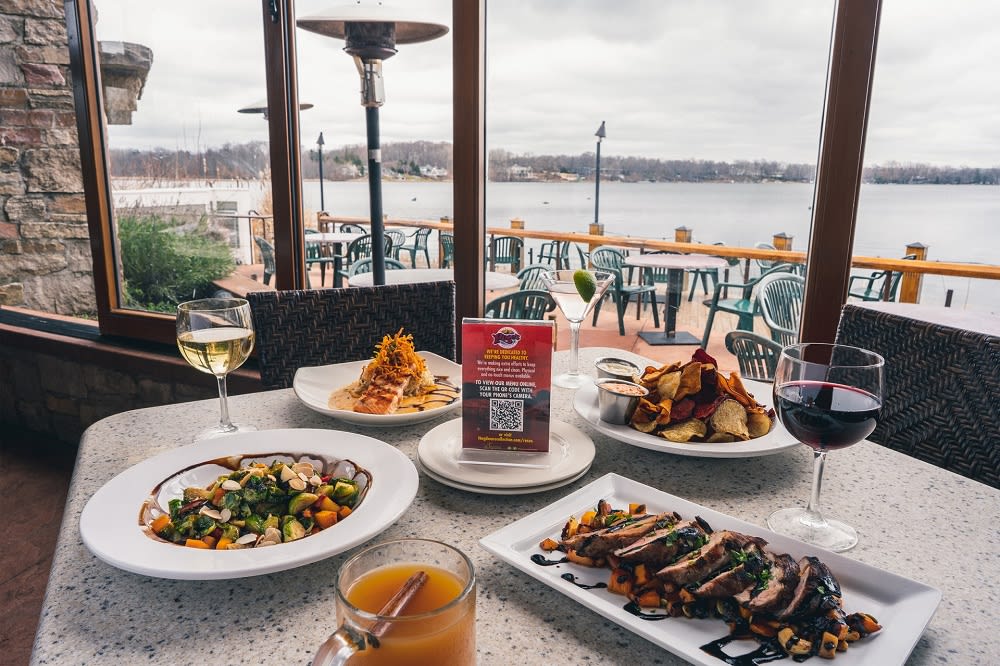 Photo Courtesy of Rose's
Are you interested in enjoying dinner by the lake? Then take a drive to
Rose's
, located at 550 Lakeside Drive. This restaurant doesn't just have a nice view; they also offer a variety of delicious foods for guests to indulge in, such as pasta, wood-fired pizza, sandwiches, and burgers.
Try one of their famous burgers if you plan to visit Rose's restaurant. Some great options include the open-faced turkey burger or the classic Rose's burger for a fulfilling meal. Finish up with one of their wines, cocktails, or draft beers for a complete experience.
Butcher's Union
Photo Courtesy of Butcher's Union
Do you enjoy delicious food, inspired cocktails, and an unrivaled whiskey collection? Then
Butcher's Union
is the restaurant to be. Located at 438 Bridge Street, this vibrant restaurant focuses on quality meat and whiskey.

Butcher's Union has certainly set itself apart from other restaurants in Grand Rapids. Here, you can enjoy meat and fish dishes such as the braised pork shoulder, beef stroganoff, and sea scallops. The menu includes shareable food items like pork belly, mushroom toast, and salmon ceviche. If that's not enough, indulge in a light soup or salad like their wedge or chopped salad.
Leo's Seafood Restaurant and Bar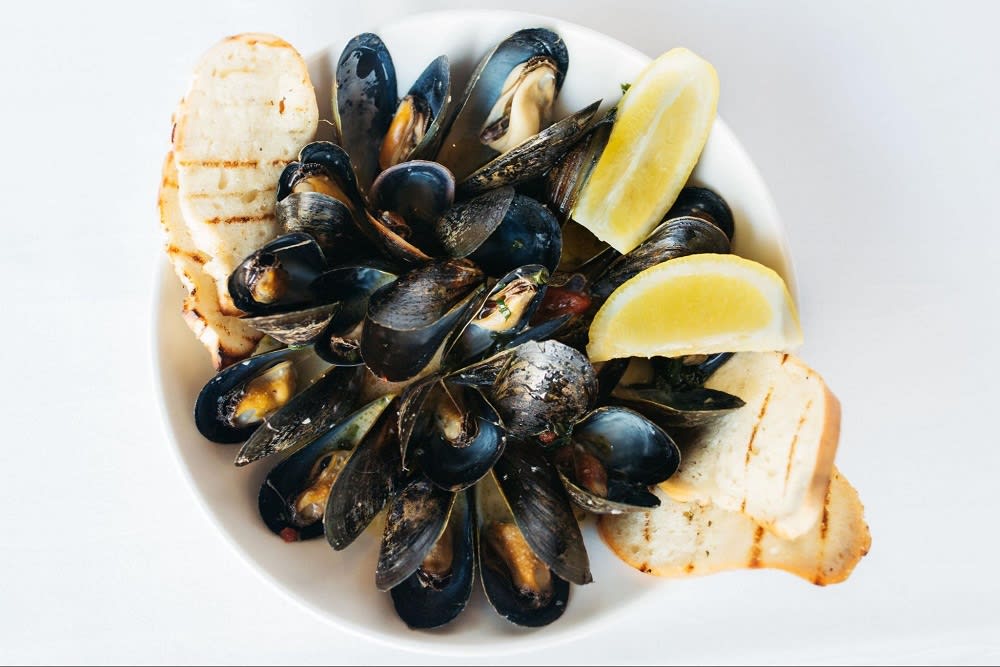 Photo Courtesy of Leo's Seafood Restaurant and Bar
Leo's Seafood Restaurant and Bar
is the place to dine if you're in the mood for seafood. Leo's was voted the best seafood restaurant in Grand Rapids. Located at 60 Ottawa Ave, guests will find no shortage of quality seafood to satisfy their appetites.
For an appetizer, consider options like the traditional chicken spring egg rolls or a seafood cake duet, which features a lobster-shrimp cake and Maryland jumbo lump crab cake, remoulade, and lemon-garlic aioli.
If you want to challenge your food palette, consider ordering from their raw bar, including seafood options such as tuna sashimi and fresh-shucked oysters. For your entree, consider seafood delights, such as filet mignon and a crab cake melt. Or, keep it simple with a halibut sandwich.
The Chop House Grand Rapids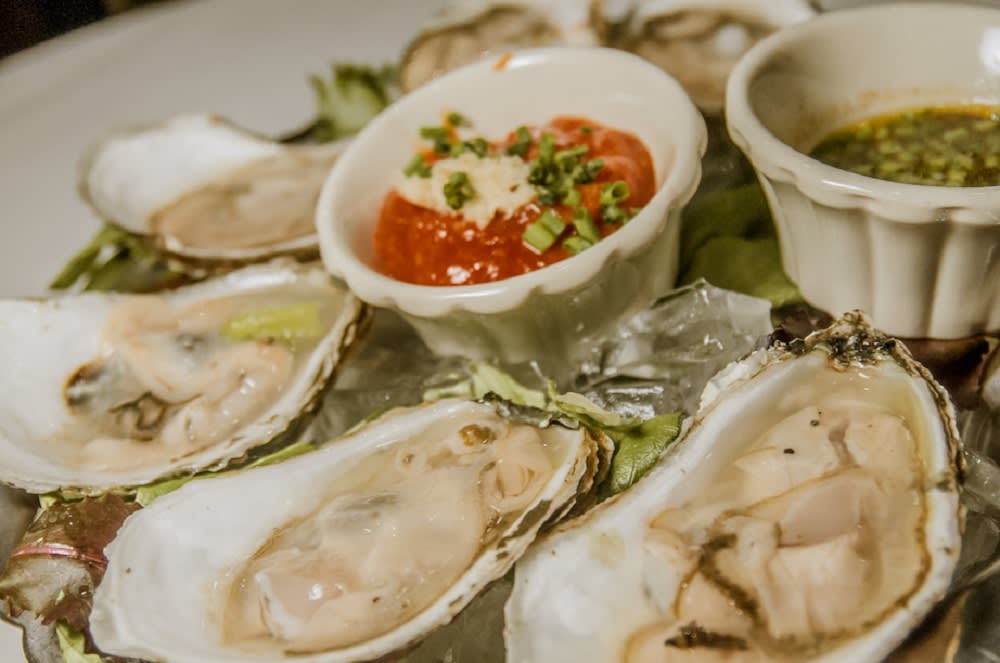 Photo Courtesy of The Chop House Grand Rapids
There's no place in Grand Rapids offering an ultimate prime dining experience like
The Chop House Grand Rapids
. Their statement is "Prepared to Be Pampered," reflected in their exceptional customer service and high-quality meals.
Located at 190 Monroe Avenue, guests will enjoy cuts of USDA prime beef that combine the perfect flavor and tenderness in each bite with a premium seafood experience to match. Try their popular filet mignon or bone-in New York strip. If you're interested in a seafood dish, consider their jumbo African lobster tail or North Atlantic salmon. Once finished, treat yourself to one of The Chop House Grand Rapids' gourmet desserts by their pastry chef.
San Chez A Tapas Bistro
If you want to spice up your food palette with Mexican cuisine, consider
San Chez A Tapas Bistro
, located at 38 West Fulton. This restaurant isn't only committed to providing quality food and service; its goal is to minimize its impact on the earth and to provide community service to the city of Grand Rapids.
At San Chez A Tapas Bistro, guests will enjoy various breakfast, lunch, and Tapas dishes. For brunch, consider some classic meals like breakfast hash, chicken and waffle benedict, or casserole scramble. If you want to enjoy authentic Spanish favorites, consider meals like queso con hierbas and Ajo al Horno.
The Old Goat
Photo Courtesy of The Old Goat
If you're interested in simple, honest, and seasonal foods with highly seasoned roots, drive to
The Old Goat
. This popular Grand Rapids restaurant has served families in Alger Heights and Grand Rapids since 2015.
Located at 2434 Eastern Avenue, you'll appreciate The Old Goat's diverse menu to satisfy your tastebuds. Their quality menu certainly doesn't disappoint with salads, sandwiches, pizza, and more.
Enjoy one of their classic salads like the Green Cuisine or Uncle Caesar's. If you're looking for something more fulfilling, consider one of their satisfying sandwiches, such as the American Heritage Burger, Alger Heights Burger, or brisket sandwich. For dessert, treat yourself to chocolate mousse cake or creme brulee.
Grand Rapids, Michigan, is a beautiful city with diverse restaurants to match. Whether you're looking to try something new or stick to a traditional quality meal, you're sure to find a restaurant in Grand Rapids offering an unforgettable experience. Are you considering a relocation to Grand Rapids? The Cheryl Grant Real Estate Team is here to help make your dreams a reality. Contact our dedicated
Grand Rapids real estate agents
today to view homes for sale in the Grand Rapids area.