It's out with the old and in with the new in 2021—and that applies to staging trends. Remember, when it comes to staging, first impressions matter. Staging helps show off the impressive features that make up your home. According to the National Association of Realtors, seventy-seven percent of buyers' agents said staging a home made it easier for a buyer to visualize the property as their future home. Read on to learn about 12 popular staging trends for 2021.
1. A Cozy Lifestyle
The pandemic has encouraged people to prioritize creating a more laid-back and cozy lifestyle in their homes. So, when it comes to staging your home, focus on making it cozy and welcoming. Cottagecare is a great example of this comforting design style. According to research, this rustic design is here to stay in 2021. This style embraces comfort and warmth with the color palette generally made up of muted colors. Common themes in this style are plants, rustic elements, and flowers. With all the challenges presented to us in 2020, it's no surprise people are attracted to this style. This wholesome aesthetic is predicted to become more and more popular as people stage or re-design their homes.
2. Eliminate Personal Elements
It can be hard to separate yourself from the home in which you've built so many wonderful memories. However, depersonalizing your space is an important step to keep in mind for staging. Potential homebuyers must be able to imagine themselves in your home, and that can be difficult for them to do if you have family photos hanging above the fireplace or postcards on the fridge. Try to remove family photos, art, memorabilia, or anything else that could potentially distract people from visualizing your home as their own. Follow these tips for depersonalizing your home.
3. Lighter Woods

With 2021 in full swing, lighter woods are making a comeback in the design world and overtaking darker woods. According to Insider, Scandinavian blonde or rustic light oaks are gaining popularity and replacing medium and darker shades. People are starting to embrace their love for minimalism and simplicity, and the lighter woods perfectly align with this.
4. Clean, Clean, Clean
This part of staging is far from glamorous, but when it comes to prepping your home for the market, it is a crucial step. It's time to clean, clean, and then clean some more! Remember that potential buyers will be exploring every crack and crevice of your home, so you'll want to ensure your home is sparkling clean. Follow these steps for cleaning or, if you're not feeling quite up to the job, consider hiring a professional cleaner. Don't forget to give special attention to the bathroom, either! This includes everything from washing the walls to scrubbing the toilets to perhaps splurging on some new towels. It's also a good idea to remove hygiene products that take up space on the counter. Tackling these steps will help give your bathroom a spa-like feel!
5. Clutter Be Gone
Organizing is an essential—yet often overlooked—step in the staging process. Understandably, this step can often be time-consuming and exhausting, so it's essential that you give yourself ample time to complete this. Decluttering and organizing your home boosts your home's chance of a sale, which means that you certainly don't want to skip over this step. Start with one room at a time: pack up extra clothes and donate, purge what you don't need or use, organize all those pesky arts and crafts supplies. Here are some more tips for decluttering your home room by room. Organizing your home has some major advantages when it comes to staging. It helps the rooms look bigger, reveals potential problems you wouldn't have noticed otherwise, is less distracting, and enables potential buyers to visualize themselves in your space.
6. Add a Fresh Touch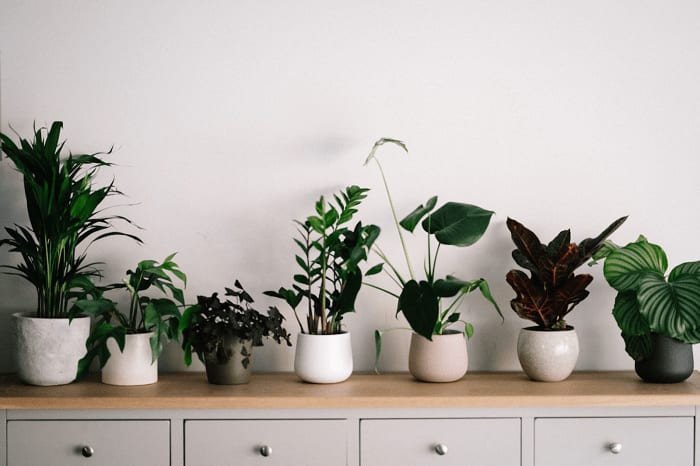 Staging requires making sure that your house is sparkling clean, decluttered, and depersonalized. And yet, you don't want your house to feel standoffish or uninviting. Adding a fresh touch, such as flowers or houseplants, is a great way to elevate the staging process and make your home more welcoming. 2020 was the year of the houseplant, and that trend is here to stay for 2021. According to NASA, houseplants boost your creativity and increase overall wellness. Ferns, bamboo, and spider plants are particularly helpful when it comes to purifying indoor air. If you're new to house plants, here are some easy-to-care-for indoor plants to keep in mind. Whether it's a colorful bouquet of flowers or an exciting houseplant, this step will bring your home to life.
7. Color of the Year
Sherwin Williams dropped their Color of the Year—and it's Urbane Bronze! This dark and moody color expertly emits both simplicity and sophistication. If there is one thing that 2020 taught us, it is the unpredictability and uncertainty of life. As a result, people have prioritized turning their homes into a personal haven. Creating a warm space is a good idea to keep in mind when it comes to staging, too. Whether you choose an accent wall or rug in Urbane Bronze, this color is sure to give your home more depth and feel—and leave potential homebuyers in awe.
8. Add a Pop of Color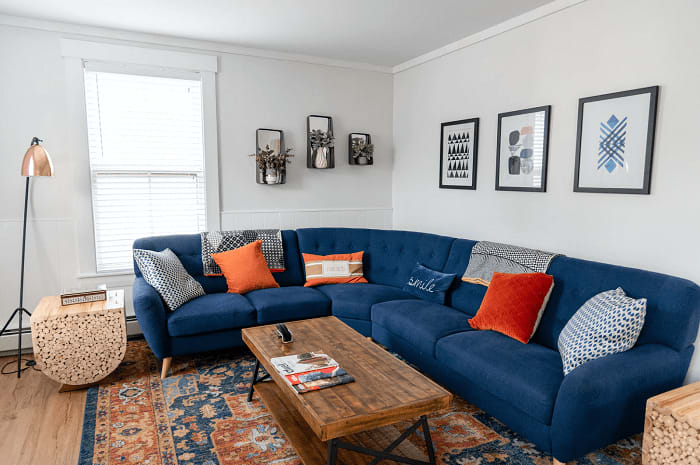 Speaking of color, 2021 staging trends are all about bringing more color into your home. With this year officially in full swing, don't be surprised to see more warm and earthy colors rising to the top. In fact, designers predict that warm neutrals and deep earth tones will become a common theme of 2021. Vancouver designer Gillian Segal predicts that caramel will replace gray and deep colors, such as olive green and burnt orange, will become more frequent. With all that in mind, it's smart to bring some color into your home throughout the staging process. You might accomplish this by adding some decorative pillows, painting your front door, or perhaps adding a statement rug.
9. Vintage Elements
Some things never go out of style, regardless of the year. Expect to see vintage elements popping up in interior design. While you want to depersonalize your space for staging, you most definitely don't want your space to look boring or unexciting. Adding some vintage elements will have your home looking its best! This encompasses everything from antique to repurposed to retro pieces. As you incorporate vintage elements into your home for staging, remember that the key is to provide an abundance of contrast.
10. Mid-Century Style
When staging your home, you'll want to be thoughtful about the furniture you are using. Modsy predicted Mid-Century Modern style would make an exit in 2021, but research has proved otherwise. On the contrary, Mid-Century Modern—also known as Mod Visionary—is on the rise by 14 percent. This style smoothly combines Mid-Century Modern with minimalist styling and colors. It is most well-known for its clean lines and sleek look. In addition to simply looking sharp, this style is also celebrated for its functionality. Additionally, it looks good in small spaces, so if your rooms are small, this style will impress potential buyers.
11. Stage a Home Office

During 2020, a large percent of the population shifted to working from home. This highlighted the importance of a functional in-home office. While so many individuals continue to work from home, it's a good idea to showcase a home office when staging. Elements of a home office include a high-quality desk and chair (this could even be a standing desk), sufficient lighting, and shelves or containers for storage. If you're tight on space or perhaps want to move away from the traditional bookshelves, you can easily add floating shelves. You could even consider adding a small coffee station, complete with a Keurig, French press, or even just a basic coffee pot. By creating an office space, you will appeal to potential homebuyers who are working remotely.
12. Natural Lighting
People are increasingly drawn to places that have natural lighting. This makes a space feel more open, warm, and welcoming—all of which will attract potential home buyers. If your home abounds with natural lighting, then be sure to highlight this feature! Throw open the curtains, scrub those windows, and let the sunlight stream in. You can also increase natural light in your home by adding mirrors or other shiny objects to help reflect the light. Natural light can boost moods and improve mental health. Additional benefits include a boost of vitamin D, which wards off seasonal depression and improves sleep. If you know when your home is the sunniest, then make it a point to conduct showings during this time. This will allow buyers to see the home with all of its warm and inviting natural light.

If you are interested in exploring Grand Rapids real estate, contact Cheryl Grant today. As one of the most sought-after Grand Rapids realtors, Cheryl serves a wide range of neighborhoods. Her experience and dedication to clients will expertly guide you through the home buying process.