Due to the heightened competition in today's housing market, sellers are looking for creative ways to enhance their home's value and stand out from the pack. The majority of potential buyers decide within a matter of seconds if they're interested or not in a house. As a result, it's crucial to evaluate every detail of what your home has to offer.

Widely regarded as the "heart" of a home, the kitchen is one of the most important spaces in any property. Studies show that buyers will pay more for up-to-date kitchens with unique features and an inviting design. An appealing kitchen remodel can provide up to a 70 percent return on investment.

Here are some of the best upgrades you can do to any kitchen to make your home stand above the rest!


Unique Kitchen Amenities
To immediately set your kitchen apart from more traditional styles and amenities, consider incorporating unique and rarely seen elements. Take a look at trends in your local housing market for ideas.

Live in an area full of pet owners? Build a convenient and visually pleasing pet bowl station into your kitchen island or under a countertop. Give your pets an out-of-the-way space to eat and hydrate while incorporating it into your kitchen design.

If you live in an urban and/or environmentally conscious area, add an under-counter composting unit to catch your food scraps without the mess. Other unique and creative ideas include built-in espresso machines, wine coolers, and wine rack cabinets!
Upgrade to Smart and Energy-Efficient Appliances
Kitchen appliances continue to become more sophisticated and energy-efficient each year. If it's been several years since your appliances were first installed, it's probably time to upgrade to a sleeker set with the smart-tech and eco-friendly features homebuyers are looking for.

Today's appliances offer features such as Wifi-enabled fridges and dishwashers that connect to a smart home ecosystem and can be controlled via an app on your smartphone. Plan your meals, create your shopping list and control your appliances with your voice with smart technology!

Beyond easing the cooking and meal planning process, brand-new appliances can have a positive impact on the environment and your energy bill. Shop for energy-efficient models, and be sure to look for the Energy Star label.
Second Sink
What's better than a deep-set kitchen sink? Two kitchen sinks! Whether you're installing an island or updating your kitchen counters, consider incorporating a second "task" sink for extra space to rinse dishes, clean vegetables, and fill pots.

When you're designing the area for your additional sink, keep in mind that plumbing will need to be added if it's not already present in the area. This will increase the overall project cost.

Large families and homebuyers who love to host will appreciate the additional space for keeping their cooking area clean and organized.
Island Installation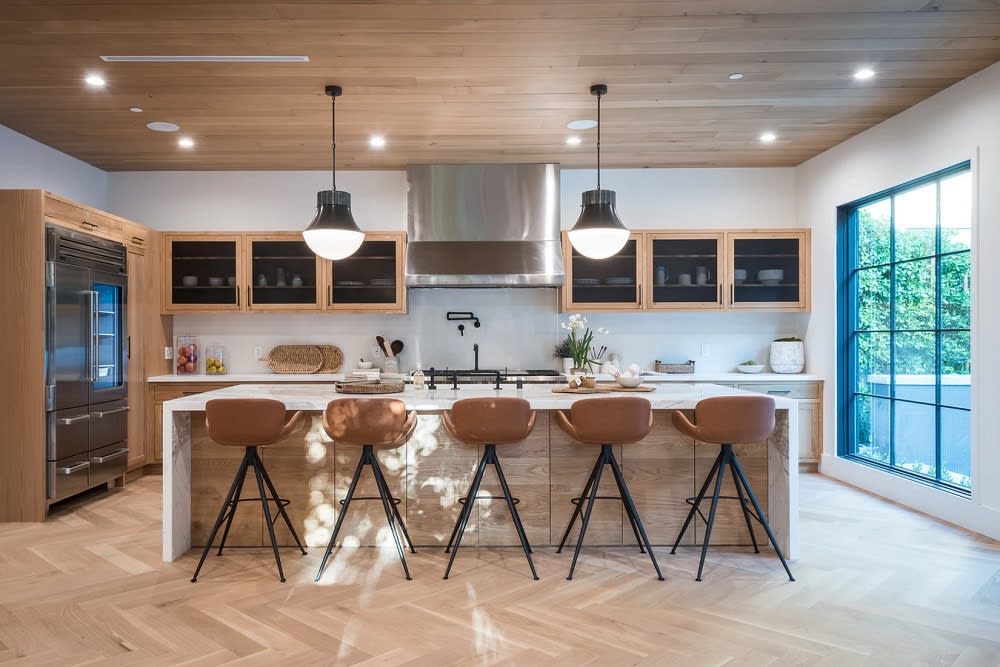 In recent years, kitchen designs have trended towards open-plan spaces with kitchen islands as the focal point. Based on an analysis of over 500,000 kitchens, approximately 79% of kitchens built or renovated since 2009 have at least one kitchen island.

Most homebuyers now expect the inclusion of at least one island in an updated kitchen. Islands provide both function and style with additional counter space, storage, and a central area for dining and entertaining.

Is your current kitchen missing an island element? Before beginning construction, be aware that the recommended space surrounding all sides of an island is 42 inches to provide ample space to move through your kitchen area and exude an open and airy feel.

For homeowners who already utilize their kitchen island, explore the option of adding a second island for twice the amount of preparation space, seating, and a look that will truly stand out from the standard kitchen space!
Open Plan Conversion
Is your kitchen blocked off from the other main living areas in your home? Open floor plans have long been the layout of choice for a flowing, entertainment, and living-friendly design.

Older homes may require an open plan conversion revamp, as smaller kitchens were common in homes built in previous decades. Renovations to open up your kitchen into a larger living room area could include the removal of a non-load-bearing wall. While this more invasive project can be a bit more expensive, your home's value will very likely continue to increase each year (on average, 7.4 percent annually) as a result of creating an open floor plan.
Fresh Paint or New Backsplash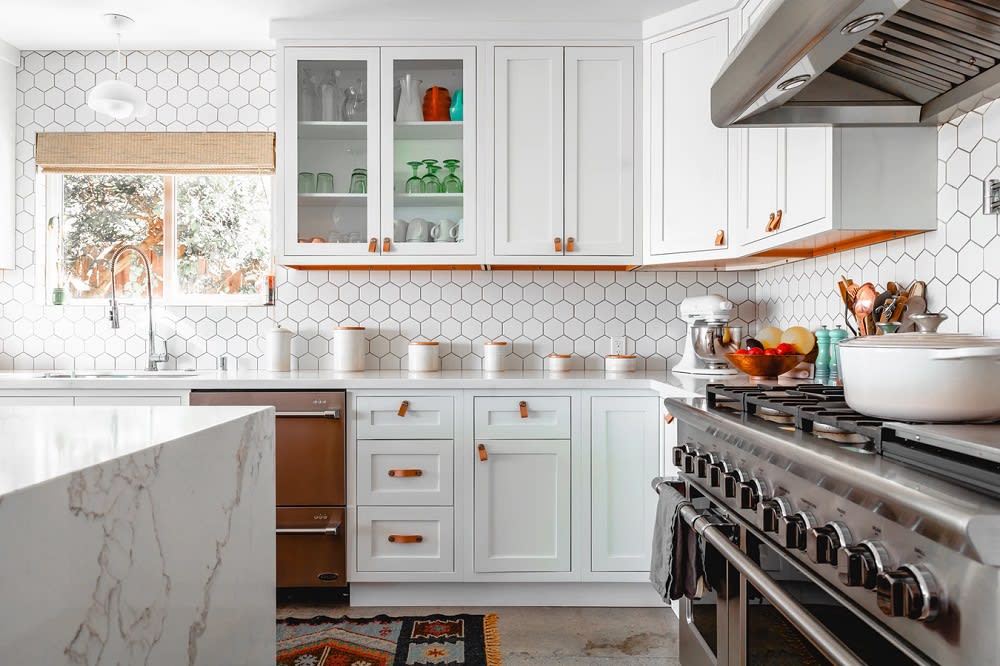 White may still be the most popular kitchen color, but warmer shades are making a comeback in a big way in 2021! Open your kitchen to the possibilities of adding a fresh color to your walls, cabinets, or island for an easy yet impactful upgrade.

Feeling daring? Go for a bold green or vibrant orange to bring a modern vibe to your kitchen. Consider the natural brightness of the space before choosing a color to maximize its light and vibrance.

For backsplashes, white subway tile has become a popular staple for the masses. Alternatively, a patterned backsplash or textured tile adds personality and charm.
Upgraded Fixtures
Upgraded lighting and kitchen hardware — homebuyers love new fixtures! These smaller-scale projects can make a significant difference in the appearance and level of luxury that your kitchen projects.

Examine your handles, knobs, and lighting treatments for opportunities to elevate the details of your kitchen.

Cabinets and drawers can show wear and tear on well-used and out-of-date handles. Replacing them with a sleeker option takes little skill or time, and these can be installed without the use of a contractor or handyman.

Install a statement lighting fixture over your kitchen island or dining table for a fresh and fun element. Today's lighting trends lean toward quirky shapes and larger fixtures for an eye-catching look. Replace fluorescent overhead fixtures with a modern pendant light or statement piece. Brighten up the space above or below your cabinets or display your favorite pieces with accent lighting.
Revamped Kitchen Style
Ready for a total revamp of your kitchen space? Get adventurous with boldly contrasting colors for your cabinets to your drawers or island. Maximize contrast by choosing shades on the opposite side of the color wheel.

Trendy styles for 2021 include concealed kitchens, pops of color, retro styles, and even dark, moody kitchen looks. Before making the leap, take into account the style throughout your home to best choose the look that will infuse excitement and newness into your property without feeling out of place.
Built-In Organization
Because more people have been working and spending their time at home over the past year, built-in organization is a must for a clean, calming, and streamlined appearance to living spaces.

From organizing food containers and pantry items to maximizing storage space, well-organized kitchens are at an all-time premium. Save yourself the headache of balancing stacks of dishes, cleaning supplies, and miscellaneous items by building a clutter-free and easy to maneuver extra pantry area—no need for a fully dedicated pantry space with these tucked-away options.

Don't miss opportunities to organize your drawers, cabinets, and under-sink areas! Decluttering your kitchen space is easier than ever with a variety of creative kitchen organizing tools now on the market.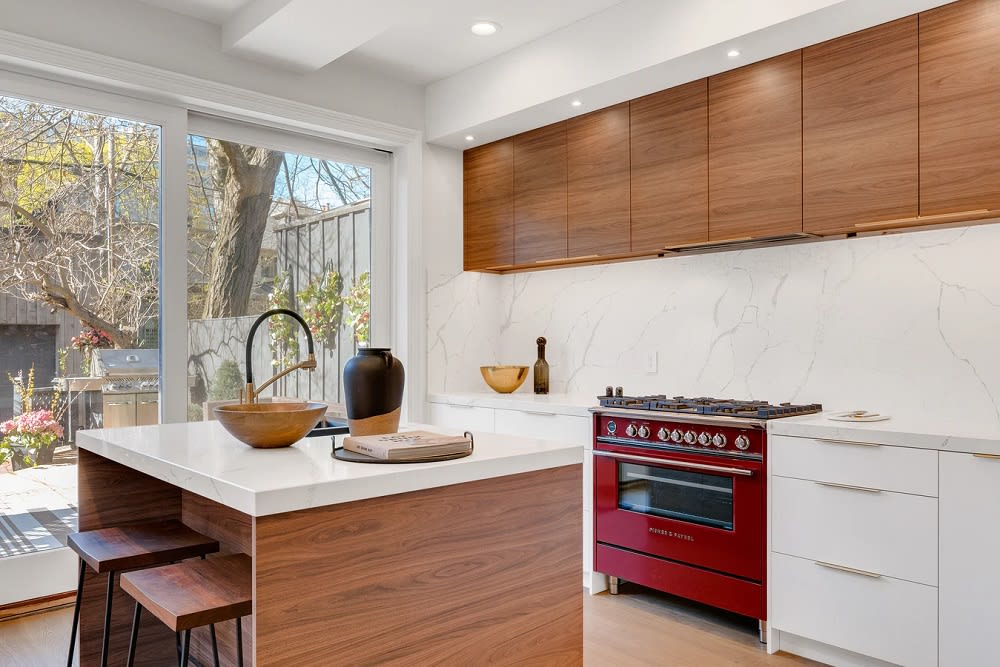 Abundance of Natural Light
Invite the outdoors inside your home by maximizing the natural light entering your kitchen space. One of the most popular home design trends of 2021 is to incorporate nature into living spaces. Think sunlight, indoor plants, and natural materials.

An open and well-lit kitchen space can feel like a breath of fresh air as you cook and complete household tasks. Bifold doors and large windows above countertops and along kitchen walls offer outdoor views and an abundance of sunshine.

Unable to invest in a more costly and time-intensive project? Add a fresh look to your existing windows with organic linen window treatments in soft shades.
Interested in other tips and advice for updating your home to stand out to potential home buyers? Contact Cheryl Grant today! Known as a top Grand Rapids area realtor, the Cheryl Grant Real Estate Team has expertise and experience in the home-buying and selling process for neighborhoods throughout West Michigan.