Ready to list a home with a Grand Rapids realtor and take advantage of the competitive real estate market? Given the current climate of low interest rates and a sparse amount of houses for sale in the area, the city is experiencing a strong seller's market. However, preparation is key when it comes to readying a home and its appeal for prospective buyers.

Sellers may want to consider various upgrades before listing any particular property, especially in today's world when buyers are proceeding with more caution, as well as a heightened sense of safety and security when it comes to a rising interest for specific, pandemic-friendly features. The ideal project to choose is one that will allow you to recoup the highest percentage of your investment, increase offers, and add ease to the selling process. Here are some of the best upgrades one can do to any home that will result in the most lucrative ROI.
Bath Addition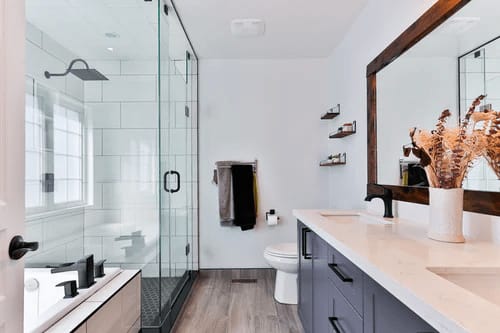 The addition of a second or third bathroom can help put a home above the competition in the Grand Rapids area. Available space is going to be key when it comes to this type of project. Take stock of unused or unfinished areas, such as basements, that can be configured to best fit your remodeling goals where the necessary plumbing and electrical sources can be easily installed. An addition such as this can run anywhere from $3,000 to $25,000, but on average, one can expect to recoup at least half that cost after making the sale. If there are other homes on the market with a similar selling price but more bathrooms, this is certainly an area to concentrate on when it comes to improvements prior to listing. Still up in the air about it? A Grand Rapids realtor will be happy to help research and better assist you with whether this is the appropriate area for you to focus upgrades on.
Bath Remodel
Whether or not an additional bathroom is of importance or there simply isn't room for another, there should still be a considerable focus in regards to improvements on the pre-existing bathroom or bathrooms when remodeling to improve a home. If bathrooms are left outdated, in disrepair, or are simply unappealing to the eye, the home will not fare well against other houses for sale in the Grand Rapids area. With a sizable budget, upgrades can be made to vanities, sinks, flooring, and surfaces, while tubs or showers can be swapped for newer, walk-in models. If the budget is a bit more strict, significant improvements can still be made with new floorings, paint, or backsplashes. A standard remodel is likely to cost anywhere from $15,000 to $18,500 with an expected return of approximately 65 percent, while a mid-range remodel will cost an average of $19,000 and return around $13,000.
Minor Kitchen Remodel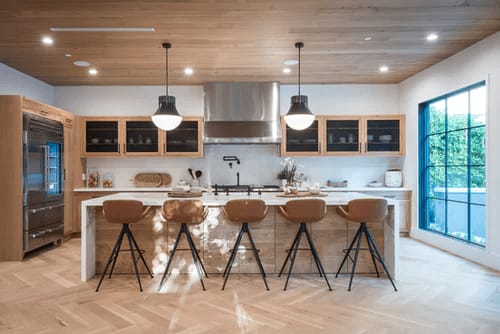 Any Grand Rapids realtor will echo the sentiment that the general buyer in the market for a new home will put considerable attention toward the kitchen. During the pandemic shutdowns and quarantines, families are spending more time than ever in their home kitchen when it comes to more personal cooking and eating safely at home. This particular area is known for being more on the pricier side, but that doesn't mean the ROI isn't as equally appetizing, especially when it can be a smaller, budget-friendly, and cost-effective project. A minor kitchen remodel involves replacing and upgrading certain features while leaving the basic layout identical. This project usually includes updating the flooring or cabinets, adding in backsplashes, and upgrading to energy-efficient or smart appliances. A minor kitchen remodel typically runs between $20,000-$28,000 with returns approximately 75 percent of that investment.
Major Kitchen Remodel
If a serious kitchen overhaul works within the budget, an improvement such as this tends to result in a significant lead against the competition for sale within the Grand Rapids area and higher offers from buyers. These major remodels tend to focus on the gutting and redesign of the current floor plan as well as upgrading appliances, flooring, and surfaces. This route is most common in homes that were built before open kitchen plans rose in popularity, but they can be performed on any home that has a kitchen that isn't considered modern. Typically clocking in at approximately $60,000 to $80,000, a major kitchen remodel is one of the most expensive upgrades made to a home. However, it is worth the investment if affordable as these projects usually return at least 65% of the investment. Keep in mind that extensive improvements such as these usually take considerable time, and certain rooms may be unusable for a week or more, so planning to take the family out of town or staying in a hotel may be ideal while the project is being completed.  
Pandemic-Friendly Remodels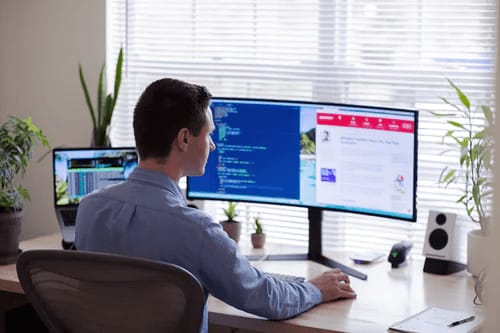 The pandemic has changed the needs of both buyers and sellers when it comes to valuing a home on the market. A Grand Rapids realtor will be able to guide the seller with insight on the current climate and what prospective buyers prefer in their homes now, thus giving clear sight when it comes to appropriate budgets and decision-making. One of the most current pandemic-friendly remodeling projects is creating a dedicated home office that can be used as a "Zoom Room." Another project is expanding outdoor living options by creating sunrooms, covered porches, or three-season rooms. Home gyms, spa-like master bathrooms, and areas that can be devoted to homeschooling children are also increasingly on the rise. With this being such a recent development in regard to home improvements, there isn't enough data yet on how much these upgrades will increase your ROI, but they certainly will make any home more appealing to buyers who are constantly adapting to new home and work lives.
General Upgrade Advice
No matter the upgrade, there is some general advice sellers should always keep in mind to help your home compete with the ever-competitive housing market in Grand Rapids and increase ROI. They include:
◾ Do not over-increase value. A Grand Rapids realtor can investigate the home values of neighbors and stress the importance of not increasing the value of a home much over that amount. If this happens, a home could be priced out of the market and lose potential buyers.
◾ Make changes that appeal to the general public. Keep in mind these upgrades are made for the prospective buyer, not based on the seller's tastes. Personal preferences should be removed from the equation, and sellers should opt for neutral details and colors that the widest range of people will be drawn to.
◾ Fix what's broken first. If anything in the home isn't working properly, focus on improvements and upgrades in that specific area before tackling larger projects.
Selling a home in a competitive market is easier than in a buyer's market, but it should always be started by putting the best foot forward. Before putting any home on the market, visit with a Grand Rapids realtor about what changes can be made that will help result in higher offers.